May 15, 2008 19:17 IST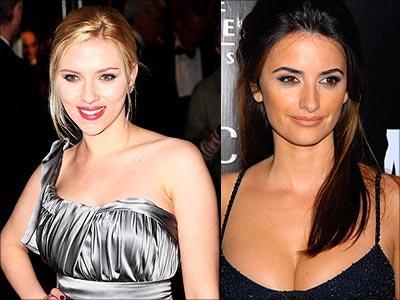 Hollywood actresses Scarlett Johansson [Images] and Penelope Cruz [Images] will share screen space in Woody Allen's [Images] upcoming Vicky Cristina Barcelona.
The scene will see the two stars lip-locked in a red-tinted photography dark room. Later, Oscar winning actor Javier Bardem will join them in the steamy scene.
This is not the first time Cruz is sharing a kiss with a woman on screen. She has earlier done that with Salma Hayek [Images] in Bandidas.
Allen's muse Johansson plays Christina, one of two American backpackers in Spain who gets involved with a painter (Bardem), and his jealous ex-girlfriend, played by Cruz. 
"It is extremely erotic. People will be blown away and even shocked," the Daily Telegraph quoted a source, as telling the New York Post.
Photograph: Getty Images