May 15, 2008 16:54 IST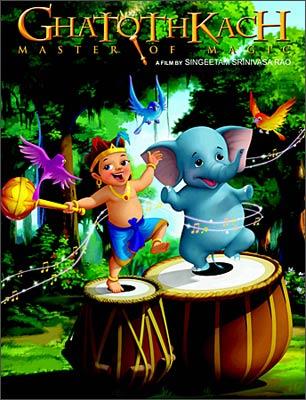 Animated film, Ghatothkach, which will be showcased at the ongoing Cannes Film Festival, saw its music release in Mumbai's PVR cinema, Juhu, on May 14.
Present at the occasion were director Singeetam Srinivasa Rao, lyricist Sameer, singer Sudesh Bhosle and producer Smita Maroo from Shemaroo Entertainment, among others.
PETA (People for the Ethical Treatment of Animls) also used the platform to announce their campaign, 'Save The Elephant.' Television actress Roshni Chopra and a few children from 9X's reality show, Chak De Bachche, unveiled it. A life size mascot of Ghatothkach and a baby elephant also shared the dias.
Master Shravan, who sings the title track in the film, gave a live performance and lightened the mood at the event. Shravan has also sung for films like Taare Zameen Par [Images], Bhoothnath and Hanuman [Images] earlier.
"I have given my voice for animals for the first time," Sudesh Bhosle grinned.
The film will be released in seven languages: Hindi, English, Tamil, Telugu, Kannada, Malayalam and Bengali. The animation has been done in Canada [Images], Philippines, US and India. The film took more than two years to get made. It will release on May 23.