May 15, 2008 17:20 IST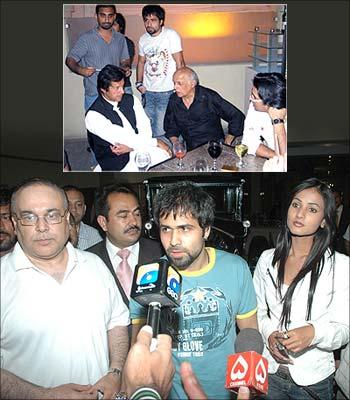 When Mahesh Bhatt [Images] took his new release, Jannat, to Pakistan, they got everything they wanted -- a grand reception and media hype. 
To support them were none other than Pakistani cricketers Imran Khan [Images] and Wasim Akram. Pakistani actor Shaan (Khuda Ke Liye) also joined in the celebrations.
The film's premiere, held at Gulistan cinema, Lahore [Images], saw almost 2,000 people.
Jannat star Emran Hashmi got the same treatment in Lahore that Shah Rukh Khan [Images] gets in India. The Pakistani media followed Emraan from the time he came to Lahore, until he left.
In the picture (top): Mahesh Bhatt chats with Imran Khan and Wasim Akram while Emraan Hashmi [Images] stands. Bottom: Emraan Hashmi addresses the media.
Text, photographs: Girish Rao