May 07, 2008 17:22 IST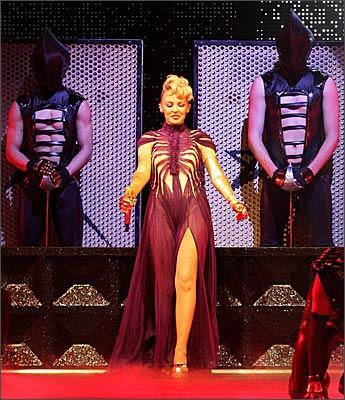 She maybe just five feet tall but Kylie Minogue [Images] sure knows how to work up her audience.
The petite Australian singer got Paris on its feet when she opened her world tour to promote her latest album X on Tuesday.
The singer performed with dancers to the tunes of her new songs like Speakerphone, Heartbeat Rock, Into My Arms and Like A Drug.
The night saw Kylie in a sheer purple gown with a long slit, showing off a pair of delectable legs. There was also a dramatic aerial display to thrill the crowd some more.
There was a pleasant surprise for the singer as well. Kylie received France's [Images] highest cultural honour, the Order of Arts and Letters, whose earlier recipients included pretty big names like Ella Fitzgerald, T S Eliot, Bob Dylan and Robert Redford.
Incidentally, Kylie decided to make the city her home in the months after her breast cancer was diagnosed.
Photograph: Getty Images