May 07, 2008 14:32 IST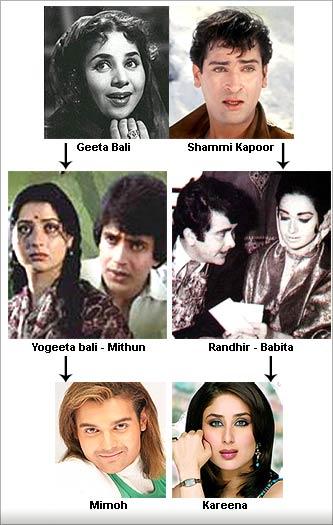 Let's just say it's a trifle complicated.
Kareena Kapoor's [Images] granduncle Shammi Kapoor was married to Geeta Bali, whose niece Yogeeta Bali was married to Mithun. It isn't often that we delve into the family tree of filmdom's all-encompassing Kapoor khandaan, but right now we're most amused by the thought of Kareena and Mimoh turning out to be cousins -- no matter how distant.
Another amusing fact is that Yogeeta left Kishore Kumar -- she was his third wife -- for Mithun, and had four children with the Bengali actor. This was a fact that rankled with the legendary singer, who refused to sing for Mithun's movies, leading to a music director being forced to do most of the singing: a certain man named Bappi Lahiri.
And the rest, as they say, is history.
Speaking of history, Mimoh is all set to step into his dad's shiny dancing shoes with this Friday's release.
Also Read: Mithun's son ready for action
It isn't just a coincidence that Mithun first tasted Bollywood fame with his 1982 hit Disco Dancer, where the actor played street-dancer Jimmy, immortalised in Bappida's Jimmy Jimmy Jimmy song. Now, his 23 year old son is trying hard to follow with his dancing act in a film named Jimmy, no less.
But can lightning strike twice? Let's wait and see.
Text: Raja Sen | Imaging: Uday Kuckian