May 07, 2008 14:25 IST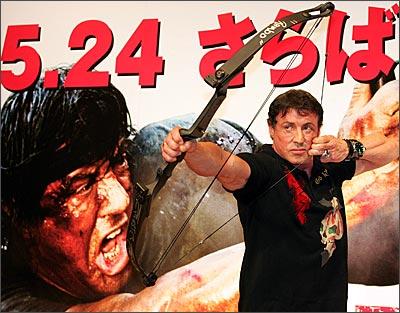 Sylvester Stallone just doesn't give up.
The 61-year old actor, who became an international icon of machismo with the huge success of his Rocky and Rambo series, was in Tokyo, Japan [Images], yesterday to promote his latest sequel to Rambo, titled simply Rambo.
Released in January this year, Stallone's newest release grossed $6,490,000 on its opening day and $18,200,000 over its opening weekend.
Its current box office stands at $42,653,401 in the US and $101,220,852 worldwide.
Rambo is the latest film after two years since the sixth and final installment of his successful Rocky series; Rocky Balboa in 2006.
Whether we have seen last of Rambo, only time and Sly can tell.
Photograph: Getty Images