June 30, 2008 13:30 IST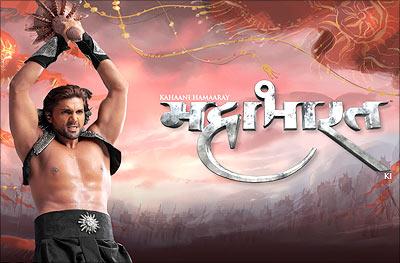 Chetan Hansraj plays the pivotal character of Bheem in Ekta Kapoor's [Images] Kahaani Hamaaray Mahaabhaarat Ki. But this is not the first time Chetan is part of a mythological show.
Ironically, Chetan starred in the earlier Mahabharat, produced by B R Chopra, as well. He was about 15 years old, and played the young Balram. He has also been a part of Prithviraj Chauhan, playing the negative character, Bheemdev.
Chetan has not started shooting for Kahaani Hamaaray Mahaabhaarat Ki yet. Though the serial will premiere on July 7, his portions will be shot only after 10 days.
He spoke to Rajul Hegde about his Mahabharat experience.
Tell us about the lavish sets, locations and costumes.
It is a spectacular set. We are shooting in Mumbai, Wai, Ladakh and Jaipur. 
Manish Malhotra has designed the costumes. The costumes and jewellery are traditional, but with a modern and fresh look. It does not fall into the mythological stereotype. Audiences will be able to relate to it.
What kind of research have you done for your character, Bheem?
I have not read any book on the Mahabharat before. Now, I am reading one to know the character better.
Bheem had a great body, so I have being working on it. I have to look like an able-bodied man, who can defy his enemies. I am trying my best to look good on screen. I'm having high protein food now. I have eggs and cornflakes for breakfast, and roasted chicken and boiled vegetables for lunch and dinner. I avoid potatoes and rice.

Did the concept of six pack abs exist in those times?

How do you know it was not there?
What kind of response have you got?
Everybody loved the promos and I am very happy with it.
Since the show has been advanced, is the cast working harder?
All of them are working round the clock. They have started shooting the childhood of the Pandavas and the Kauravas.
You played junior Balram in B R Chopra's version of Mahabharat.
I had played that role years ago. It was the role of a lifetime for any actor. I feel I'm coming home, since I am playing Bheem.
I had a problem with the dialogues when I played Balram. Even now, it was tough initially. But it will be challenging.
You have played negative characters in most of your shows. Do you think people will accept you in this new avatar?
I played a positive role in Kkusum but my negative character Sasha in Kahani Ghar Ghar Ki made me popular. When they accepted me in that, I am sure they will accept me in my new avatar also.
Are you still in Kahaani Ghar Ghar Ki?
Right now, my character in Kahani is not being shown. So I am only doing Kahani Hamarey Mahabharat Ki and a reality show, Kaun Jeetega Bollwood Ka Ticket.
Watch Kahaani Hamaaray Mahaabhaarat Ki starting July 7, from Monday to Thursday at 9pm on 9X.