Advertisement
June 26, 2008 16:47 IST


I think air tickets to Dubai might be in order. It's long been that the UAE has been tossing around truckloads of cash for entertainment, and ramping it up every year, but despite the aggressively hardcore clubbing scene and the fast cars, it's only now that Dubai seems to Sheikh Der'bouti -- sorry, but how often does one get to make a Frank Zappa reference anyway? -- the right way. Themeparks, people. Big, massive, branded amusement parks are the order of the day, the rollercoaster-lovin' Sheikhs declare, and I nod gleefully along.

The news, for all of you who haven't heard, is that Marvel Comics is building their own themepark in Dubai for a 2011 opening -- and it shall be one that captures the entire Marvel Universe, so we're talking Spider-Man and Dr Strange and Iron Man and Ghost Rider, who could, in today's superhero-fuelled pop-culture, totally kick Mickey-butt. Sure, Parc Asterix in France [Images] is universally acknowledged as a bummer, but with the fanboy-friendly decisions Marvel's recently showing with its films, this could be a masterstroke, true believers.

Still, comic fandom aside, those raised on Hindi cinema have reason to be happy about this amusement park stuff as well. No, we aren't reopening Appu Ghar just yet but Yash Raj Films have pioneeringly signed on to create a Bollywood-themed park in Dubai. Built in association with Dubai Infinity Holdings, the glitzy Yash Raj Films Entertainment District is set to open in 2012. Wow.

Now, before you set your sights on rides recreating The Burning Train, Sholay [Images] and Victoria No 203, remember that YRF will likely only be concentrating on attractions based exclusively around its own enviable back catalogue. Therefore, one realistically expects fields of mustardly yellow fluttering in the breeze with characteristic Punjabiness, just minutes away from a Swiss backdrop with a quaint little chalet, a church and a tulip garden all well within reach of each other.

The music, of course -- the charttopping hits that have well lasted time's test -- will blare merrily all over the place, while extras pirouette around you and you get to take pictures with virtually the exact same backdrop as a Shah Rukh Khan [Images] or an Amitabh Bachchan [Images] did, back in this classic and that.

Yet it is an amusement park, and there must be rides. It's only that we don't really do too many of the kinds of films that make the segue so effortlessly. It's all very well to applaud Universal Studios' Men In Black shoot-em-up game where the ride lets you blast alien goo all over the place, but what of the poor creative director straddled with making a DDLJ ride? After deciding on a Eurorail backdrop, what else can be done?

Much, actually, if conceived with some cleverness -- and, more importantly, some cheek.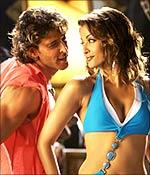 YRF, our biggest producers, have given us our fair share of summer blockbusters, and a Dhoom 2 [Images] ride -- where you play Hrithik [Images] and bike it through random, spectacular stunts while the extras pirouette around in Ash's minimal wardrobe, one hopes -- is an absolute no-brainer.
I'm sure also that Chak De! India's jingoistic hockeyness and girl-power themes can translate into a stick-themed climaxing ride. Then there's Darr, and it would be fantastic if they'd just let you -- complete with background score and crowded sets -- recreate that breathtaking Sunny Deol/SRK [Images] chase sequence, and let you keep the clip. Man, that'd be suh-weet.
Actually, even Kaala Patthar, one of Yash Chopra's [Images] most underrated films, could conceivably be mined for disaster power, what with the coal mines caving in and much need for cowardice discarded. But what about the classics that deserve a space but aren't juvenile enough to be made into actual 'rides'? Like Deewar? Will it just come ingloriously down to getting a my-dad-the-thief temporary tattoo on your forearm and heading up the steps of a stormy temple? And perhaps a trivia quiz will eventually let you choose your grand prize via The Silsila Selection: A lady-and-the-tiger style situation with two doors, Rekha [Images] and Jaya Bachchan poised unenviably behind either. Oo-er.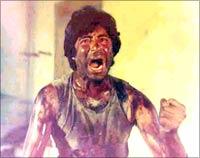 But really, YRF must know that despite their own hits -- The Bunty Aur Babli [Images] Swindle, where you try and rip off Eiffel Tower [Images] figurines from the souvenir shop without anyone noticing (okay, that one isn't technically a real game; try not to get nabbed); or The Fanaa [Images] Fright, where they blindfold you and play the movie over and over till you agree that it's actually a good film -- and their domination of Bollywood as a brand, that there is so much mouthwatering potential for genuinely fun rides outside of their back-catalogue.
Mergers and acquisitions, Chopra bhailog, do please do the needful. A Bollywood themepark, no matter how stunning, would be entirely incomplete without allowing audiences to walk through a kitne aadmi the set, where they must hunt down Gabbar while Jai's harmonica plays in the background and Basanti's voice occasionally drops them a yon-ki hint. And A Mr India ride, where a friendly neighbourhood disembodied voice cheerfully guides them to Mogambo's lair, which leads to an immersive, catastrophic shoot-out. Oh, how merrily we'd stagger outta there.
The most significant highlight of this dream themepark in my head, of course, is The MithunDa Experience: 3D, a 'ride' that takes a reel of the actor's greatest, most ludicrous moments, and makes you feel like you're a part of them. Bloody awesome, saala.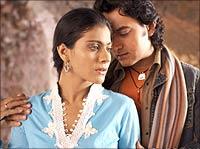 Come to think of it, a Shahenshah thing could be wild where you get to dress up in that weird costume, stand dramatically in the doorway of a tabela, with heavy breathing in the background, and fight a half-dozen extras, who are conditioned to pretend that your brocaded jacket-arm is actual chainmail.
The thing is -- and I haven't even gotten started on the Crimemaster GoGo game yet -- that we all carry a bit of this themepark in our heads.
When the audience bursts into seetis after a hero's 'entry shot,' after a particularly major twist, after a heroine's-dad-defying burst of dialogue, and hey, even after a moment of significantly mindblowing choreography... our cinema is one of escape, and frequently we are clouded enough by Bollywood's optimism to create a version of it in our heads, cinema where we are the ones wearing a scarlet shirt with a brassy plaque saying 786 wrapped around the upper arm and equally -- it must be admitted -- cinema where we are the ones courting Zeenat Aman [Images] in a Venetian gondola.
So the theme park might not be a reality yet, and I'm pretty convinced YRF aren't setting out to make the kind of loony place I just outlined, but I wish they did. I wish them the best of luck and hope they make the kind of place we can go and relive the cinema we love, not just pose for photographs with giant cartoony versions of Raj and Simran [Images]. Come on guys, give us a slice of that thing inside our heads.
And give it the right name, please. Newspapers and magazines have already dubbed the project Bollywoodland, a fun yet predictable name. It works, but I'm sure everyone can toss up suggestions for something that captures a little more of our masala sensibilities.
The absolute best name, in my book, is something so darned appropriate it makes me wish that legendary studio hadn't nabbed it up ages ago. Filmistan.
Not into theme-parks and wondering why this isn't a gossip piece? Clicked on the wrong link and just want to tell me you don't like the mugshot? Or have any themepark suggestions? Drop me a line on film, fanboyhood or any random faltugiri at senterfold@rediffmail.com. Cheers, seeya next week.