June 25, 2008 16:47 IST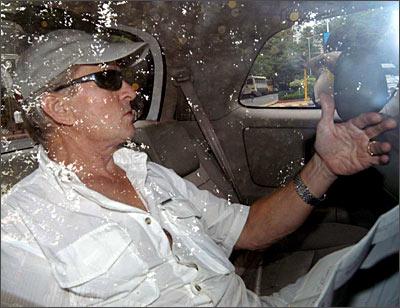 We had mentioned that Michael Douglas is scouting locations in India for his new film, Racing The Monsoon. The actor was spotted in Mumbai on Monday, before he left for Jaipur the next day. 
Racing The Monsoon, a thriller about a diamond robbery aboard an Indian train, stars the actor's wife Catherine Zeta Jones [Images]  and Matt Damon [Images].
The film will be directed by Steve Carr. 
A sequel to the 1984 movie, Romancing The Stone, it will be produced in collaboration with an Indian production house, Percept Picture Company, and will be shot in Mumbai, Jaisalmer and Kolkata.
Photograph: Arun Patil