June 24, 2008 17:08 IST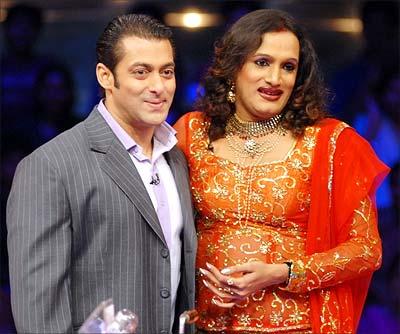 Salman Khan will have a unique contestant on his television game show, 10 Ka Dum, this weekend.
Laxmi Narayan Tripathi, a eunuch, reduced the audience to tears with her quick wit, humour and nakhras.
Even Salman, a showman himself, gave Laxmi centrestage. The eunuch, who made news when a documentary on her life was screened at the Mumbai festival and television channels, was the next contestant in the knockout round along with Aditya Prabhu and Manpreet Singh. Though she lost the round, the evening clearly belonged to her.
Salman particularly looked disappointed when Laxmi didn't make it to the next round.
If you think Laxmi is an exception to the eunuch community, watch out for her beautiful companion whom Salman invited as a contestant on the show.
Catch this episode of 10 Ka Dum on Friday at 9 pm on Sony Entertainment Television.