June 23, 2008 18:53 IST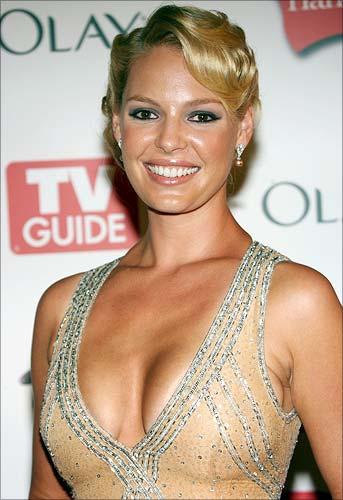 Katherine Heigl has been named the Most Desirable Woman in a poll by AskMen.com.
The Grey's Anatomy star pipped the likes of Jessica Alba [Images] and Scarlett Johansson [Images] to land the top spot at AskMen.com's annual list of Top 99 Most Desirable Women.
In casting their votes, readers were asked to look beyond sex appeal and beauty to choose women who have the characteristics they value in a potential companion, like intelligence, humor, charisma, and ambition.
Over 5 million votes were cast as the readers identified the females from the worlds of music, fashion, sports, and entertainment who they felt best represented their ideal woman.
The second spot went to supermodel Alessandra Ambrosio, while actress Kate Beckinsale [Images] stood third.
Eva Mendes [Images] and Jessica Alba rounded off the top five, reports AskMen.com.
Others on the list included: Scarlett Johansson, Jessica Biel [Images], Rihanna, Marisa Miller and Adriana Lima [Images].
The Top 10 Most Desirable Women are:
1. Katherine Heigl
2. Alessandra Ambrosio
3. Kate Beckinsale
4. Eva Mendes
5. Jessica Alba
6. Scarlett Johansson
7. Jessica Biel
8. Rihanna
9. Marisa Miller
10. Adriana Lima
Text: ANI | Photograph: Getty Images