June 23, 2008 13:50 IST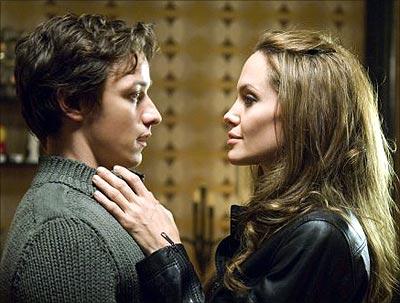 Wanted: A hero for an action movie opposite... hold your breath... Angelina Jolie [Images]!
The lucky actor, who landed the part in Wanted, is James McAvoy, the 29-year old Scottish star, who acted in films like The Chronicles of Narnia, The Last King of Scotland and last year's Academy Award nominee, Atonement.
McAvoy plays a trainee assassin, who obsesses about his absent father. Directed by Timur Bekmambetov [of Nightwatch and Daywatch fame], this comic-book adaptation also stars Morgan Freeman.
But it will be the chemistry between McAvoy and Jolie to watch out for in the film. Jolie plays a dominating woman, who trains McAvoy on how to become an assassin.
'Angelina's one of the biggest stars in the world and she is ridiculously good-looking,' McAvoy told the telegraph.co.uk in an interview. 'So, hopefully, young men will put themselves in my shoes, because that's what I aim to do,' he was quoted as saying.
The film feels a bit like The Matrix, according to the actor, who is married to his Shameless co-star, Anne-Marie Duff.
'It's slightly super-heroish, has these cool visual effects with bending bullets, and someone coming along and telling a minion, a drone, that the world is not the way he thinks it is. But while I love the first Matrix film, it doesn't have a sense of humour about itself. This one, though, relies on its sense of humour,' he told the website.
Wanted will release on June 27 in America.
In the picture: James McAvoy and Angelina Jolie in a still from Wanted.