June 19, 2008 12:54 IST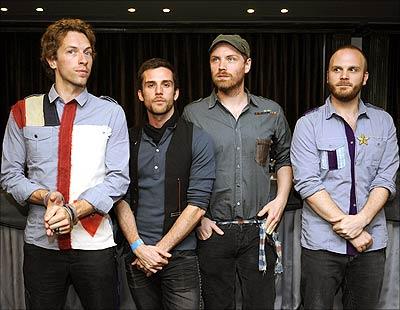 English alternative rock band Coldplay have rubbished accusations of plagiarism levelled against them by am unknown New York based group.
The group's frontman Chris Martin angrily denied that they had stolen any of Creaky Boards' melodies for their number one album title track Viva La Vida.
Also Read: Is Coldplay the world's biggest band?
Creaky Boards recently alleged that the Coldplay track sounded like their tune called The Songs I Didn't Write.
They even said that Chris might have seen them playing the song at this year's  CMJ festival in New York.
However, Coldplay have denied the claim through their spokesman.
'Viva La Vida was written and demoed in March 2007, which is more than six months before this band claim Chris went to see them! We totally refute their claims,' the Mirror quoted the spokesman as saying.
Meanwhile, Creaky Boards have posted up a video on You Tube comparing the two tracks.
Text: ANI | Photograph: Getty Images
In the picture: Member of the band [left-right] Chris Martin [vocals], Will Champion [drummer], Jon Buckland [Guitar], and Guy Berryman [Bass] pose for photographers before a press conference in Barcelona.