June 09, 2008 17:05 IST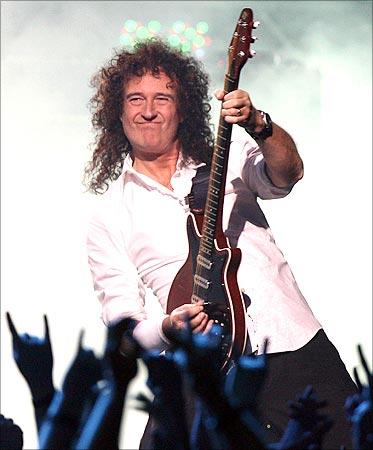 We know musicians are a talented lot. But have you met one who has a doctorate on astrophysics?
Well, barring Bob Dylan, who was recently awarded a Pulitzer for his contribution to music by Princeton University, rockers aren't exactly rocket scientists.
But every once in a while, a rocker like Brian May comes along to shake things up a little. For, you see, the 60-year old guitarist of the famous rock band, Queen, was awarded a PhD in astrophysics from the Imperial College London [Images].
And we kid you not, Dr May, earned his the hard way submitting a thesis he had written while in college.
'It was one of those strange times when synchronicity happens. I took my old thesis notes [on the velocities of dust particles in the solar system] out on tour with me, and I mentioned on my website that I was looking at my thesis again. Who should read the website but the head of the astronomy department at Imperial College, Michael Robinson. He wrote to me and said, 'If you're serious about this, I will be your supervisor.' That's something you can't say no to. That's when the tough part began. It's not a piece of cake to get a PhD,' he told the Los Angeles Times.
His fascination with the subject not only earned him a doctorate but a book, Bang! The Complete Histroy of the Universe, which he co-wrote with astronomer Sir Patrick Moore and astrophysicist Chris Lintott, as well.
Inspired by physicist Stephen Hawking's [Images] A Brief History of Time, the book takes us on a tour of the cosmos after the Big Bang.
Photograph: Getty Images