| | |
| --- | --- |
| Sarah Jessica Parker in a still from Sex And The City. | |
| | |
| | |
| | |
| | |
| | |
| | |
Advertisement
June 04, 2008 15:27 IST


The women are back. I am referring to Carrie, Miranda, Samantha and Charlotte. We last saw them four years ago -- although they have occasionally reappeared in our living rooms in re-runs on HBO and the heavily censored version on TBS. But actually they never really left us. There were speculations about the film -- talks were on, then off, and their personal lives were all over the gossip pages, from Kristin Davis's [Images] so-called sex tapes to Cynthia Nixon's coming out story.

Don't miss: A sneak peek at Sex And The City

HBO and the show's co-creator Michael Patrick King never really closed all the chapters in the last episode that was broadcast in February 2004.Yes, Mr. Big (Chris Noth) found Carrie Bradshaw (Sarah Jessica Parker [Images]) in Paris and rescued her from the clutches of that narcissist Alexandr Petrovsky (Mikhail Baryshnikov).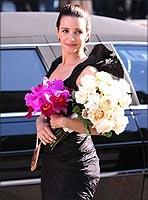 But surely there has to be more joy and happiness in Carrie's life. If she can advice so many women through her columns and her books, then good things have to happen to her too. Surely there has to be some justice in this universe. Carrie cannot live alone forever in her very expensive apartment, with huge closets for her dresses and her shoes.
So here is the good news for the fans of Sex and the City who have been eagerly waiting for the movie. The movie opened this weekend and it is 2 hours and 20 minutes of good fun and laughs, some tears, a lot of shopping and more designer labels than anyone can imagine. It is essentially about Carrie finding the happiness -- nearly losing it and then somehow finding a balance (Sorry, no spoiler here!). But it is also about Carrie's three best friends moving on in their lives, sometimes making tough choices -- now that they are all over 40s
Women -- especially in their 20s, 30s and 40s -- came out in big numbers across the US to see the film. The film earned $55.7 million over the weekend and was number one on the US box office charts. That demographic's turnout was expected, although it is very rare that just women alone can make a film that big. Lines were long outside theatres in Manhattan -- but after every 100 women, one could count a handful of men. I saw the 10 am show on Saturday morning in Greenwich Village. There were at least 150 people in the theatre and 80-90 percent of them were women, most in groups with friends.  
Critics mostly blasted the film. And some criticism of the TV show and the film is valid. Carrie and her friends are all white. The Village Voice went to the extent of calling the film racist. Critics said that the show and the film hardly reflect the multicultural and the various shades of ethnic colours of New York City.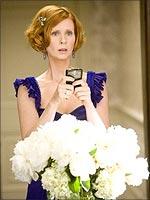 The characters are wealthy and the show, and now the film celebrate consumerism. They shop in big name stores, eat at very expensive looking restaurants, and hang out at trendy clubs in the Manhattan's meat-packing district. They are self-indulgent, oblivious to the misery in the city and in the world around us. Finally, given that she is just a columnist, how in the world does Carrie afford her apartment, her dresses, and her Jimmy Choo shoes which cost nearly $800 and the $525 Manolo Blahniks?
One small note here. Sex and the City -- the show did have a supporting character who was African American. Miranda Hobbes (Nixon) had an affair with Dr. Robert Leeds (Blair Underwood). In the movie, Oscar winner Jennifer Hudson plays Louise who is Carrie's balanced and very intelligent assistant. And in one scene when Louise goes back home to St Louis for Christmas -- her family living room is packed with African American faces. And I did notice a couple of African American guests in the background at a party that Mr. Big and Carrie throw. Also -- for those who are keeping track, Charlotte (Kristin Davis) and her husband, Harry have adopted an Asian girl in the film. 
Granted Sex and the City paints an unreal world. But there is a reason for its popularity. All that talk about men, sex and finding true love somehow touched a nerve among young and mostly single women. The show said that it was relatively easy to get sex in New York City, but dating and finding good men, while also balancing demanding careers and making time for girl talk with buddies was all very challenging. But the show also said that despite all its pitfalls -- single life can be celebrated, at least up to a point.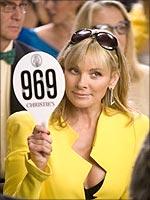 But as the women of Sex and the City -- the movie, turn over 40, they have to accept their true age. Carrie borrows Mr. Big's reading glasses and Charlotte takes those of Harry. And at the end of the film Samantha (Kim Cattrall) turns (horrors) 50!  Miranda's busy legal career puts pressures on her marriage and sex life. Samantha questions why she is so committed to the sexy Jarrod Smith, and in the process losing her sense of self. Charlotte is just being, well, Charlotte, even though her husband adores her. Eventually it is Carrie whose relationship with commitment-phobic Mr. Big defined the show's six seasons and now also the film.
Sex and the City may appear to be unreal but these are real concerns that real people face in our times. So why malign and dismiss a show and a film, because it is such a big cultural phenomenon? And what happened to just entertainment for the sake of entertainment?
We live in tough times. The Iraq war is in its sixth year. Gasoline prices are at an all time high. Real estate and mortgage crisis has affected millions of Americans. And the Democrats cannot seem to finalise on their presidential nominee.
In all of this mess, what is wrong if Sex and the City lets women dream a little, imagine a world with earthly pleasures of shoes and expensive designer name dresses? Nobody questions Steven Spielberg [Images] when he sends Indiana Jones on a long, ridiculous journey looking for a crystal skull. So why cannot women aspire to buy a pair of Manolo Blahnik, even at a price tag of $525?