July 30, 2008 14:18 IST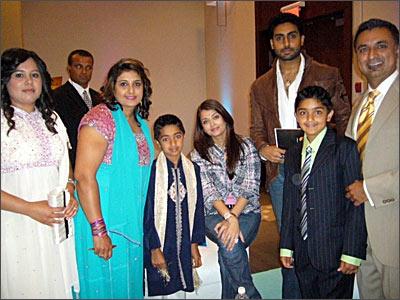 The one thing you may miss most when you travel abroad is food. But not the Bachchans.
The family, along with their entourage, who are currently globetrotting around the world as part of their Unforgettable tour, got a taste of India when they halted at the Nawab Authentic Indian Cuisine restaurant in Toronto.
According to a release, Amitabh Bachchan [Images] commented on the 'great food,' as he nibbled on paneer at the VIP luncheon hosted on July 17 after a media briefing at the Hilton Hotel, where the stars were put up.
Restaurant owner Altaf Nathoo said the Bollywood guests including Amitabh Bachchan, Abhishek, Aishwarya, Preity Zinta [Images], Reitesh Deshmukh, Vishal and Shekhar were provided an extensive menu to choose from.
In the photograph: Aishwarya Rai [Images] and Abhishek Bachchan [Images] with Nawab's owner Altaf Nathoo (right).
Text: Ajit Jain