July 29, 2008 17:46 IST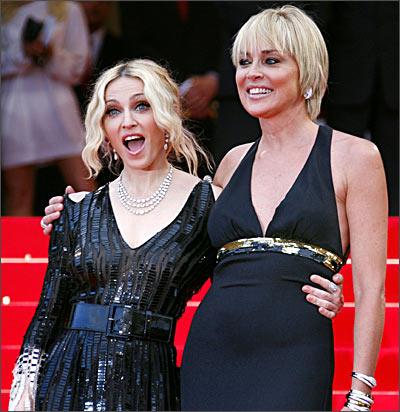 They say fame is a fleeting moment -- one day you're a hero and the every next moment your image is crushed into small bits. Now, a leading PR practitioner, who believes that public recognition gets decayed after 15 months, has come up "fame formula" to calculate the shelf-life of a celebrity career.
Mark Borkowski said that a study of a host of celebrities showed that any specific boost to fame is sustained for about 15 months.
Borkowski concludes that people who are pushed into the limelight in this era can expect their initial fame to last for 15 months.
He found that each celebrity he looked at was surprisingly similar in the way their fame decayed.
Borkowski, who has represented Michael Jackson and Joan Rivers, said this explained why reality television contestants vanished after a year-and-a-half, if they did nothing but wallow in their first flush of fame.
His formula measures the way fame declines, allowing publicists to see when they need to "stir up the hornet's nest" and propel their clients back into the limelight.
Borkowski's calculations are contained in his new book, The Fame Formula.
'All the stories I have included in The Fame Formula, played against each other, pointed to the fact that there is an identifiable way of measuring fame which also shows how it can be continued ad infinitum in the hands of a careful, clever publicist,' Telegraph quoted Borkowski, as saying.
The aim was to discover if Andy Warhol was right; is everyone going to get 15 minutes of fame?
'The answer, I discovered, is that he was partially right -- anyone can become famous, especially if they have some talent to use as currency, but the first spike of fame will last them 15 months, not 15 minutes,' he added.
He said most successful brand celebrities, such as Katie Price [Images] and Madonna [Images], understand instinctively that there must always be something new to draw the public in.
The formula for working out the decline in fame from its peak is: F(T) = B + P(1/10T+1/2Tsquared)
F is the level of fame.
T is time, measured in three-monthly intervals. T=1 is after three months, T=2 is after six months.
B is a base level of fame identified and quantified by analysing the average level of fame in the year before peak. So for George Clooney [Images] the number would be huge while it may not hold true for a lower echelon celeb.
Last, P is the increment of fame above the base level, establishing the individual firmly in the public consciousness.
In the picture: Madonna and Sharon Stone [Images] in Cannes [Images].
Text: ANI | Photograph: Valery Hache/Getty Images