July 25, 2008 14:59 IST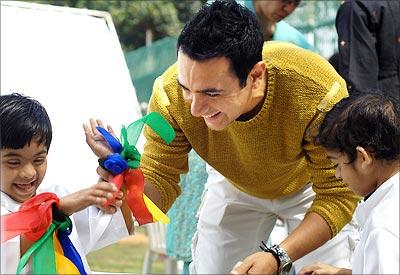 After repeated requests from fans for the DVD of his hit film, Taare Zameen Par [Images], Aamir Khan [Images] has finally yielded.
The actor launched the DVD of his directorial debut on Friday at Darsheel Safary's school. Darsheel was the film's lead in the critically acclaimed hit about a dyslexic boy.
Ever the conscientious actor, Aamir was very keen to launch the DVD immediately as it is an important film in respect to child education.
But it took the actor six long months of preparation to come up with the special DVD package which include deleted scenes, Aamir's commentary and pictures -- each one bearing a caption penned by the actor himself.
The Taare Zameen Par DVD is priced at Rs 500.