July 24, 2008 15:23 IST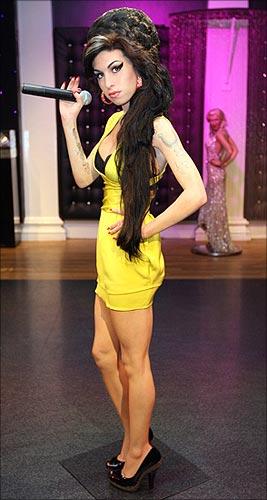 A waxwork model of singer Amy Winehouse has been unveiled at London's [Images] Madame Tussauds wax museum.
The waxwork has the Rehab singer dressed in the same outfit that she wore to the Brit awards -- a yellow mini-dress and black high-heels.
Her parents, Mitch and Janis, unveiled the model, 'complete with trademark beehive and sailor tattoos'.
Mitch said that the wax figure of his 24-year-old daughter was an 'absolutely incredible' likeness.
'It captures her totally... but she's not that skinny anymore,' BBC quoted him, as saying.
'I can't get over the tattoos. They are perfect,' he added.
Text: ANI | Photograph: Dan Kitwood/Getty Images