July 21, 2008 15:24 IST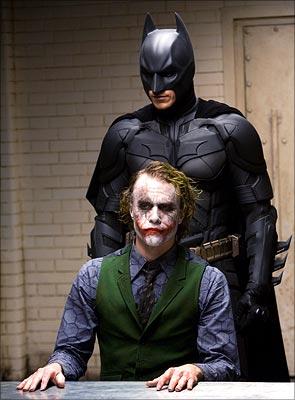 The new Batman movie The Dark Knight smashed a lot of box office records, what with an earning of 155.3 million dollars in its opening weekend.
The new movie, starring Christian Bale, Maggie Gyllenhall, Michael Caine and the late Heath Ledger, has already made more money in its biggest day (66.4 m dollars on Friday) than Hancock, WALL-E and Kung-Fu Panda, to name three recent supersize hits, made in their respective opening weekends.
The movie's performance on Friday also set new records as Hollywood's biggest-ever opening day and biggest-ever single day.
Second highest grosser over the weekend was Colin Firth, Pierce Brosnan [Images] starrer Mamma Mia! which took in 27.6 million dollars.
Will Smith's [Images] superhero movie Hancock came in third on the list by Exhibitor Relations, with an earning of 14 million dollars.
The movie adaptation of Jules Verne's classic Journey to the Centre of the Earth starring Brendan Fraser was the fourth highest grossing, raking in 11.9 million dollars.
The top five was rounded off by Hellboy II: The Golden Army which took in 10 million dollars over the weekend.
Text: ANI