July 15, 2008 18:23 IST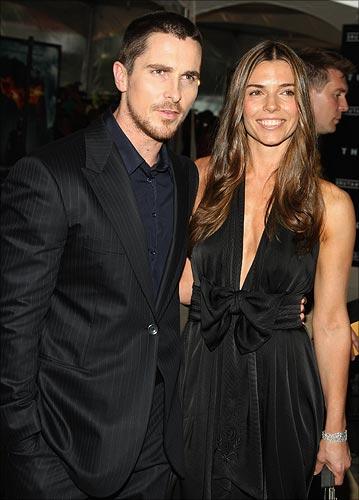 The world premiere of The Dark Knight on July 14 in New York saw quite a few Hollywood stars walk down the red carpet.
Christian Bale was spotted with his wife Sibi Blazic, along with Morgan Freeman, Michael Caine, Maggie Gyllenhaal, Danny DeVito, Ethan Hawk, Dark Knight director Christopher Nolan, and many more.
Late actor Heath Ledger's family also made their way to the film's premiere. His father Kim Ledger and stepmother Ines bypassed the red carpet and ducked into the theatre to watch their late son play The Joker in the latest Batman film.
Heath's mother Sally Bell and her husband, and Heath's older sister, Kate, were also present.
At the end of the show, when Kim was asked about the film, he responded with the thumbs-up, and also told reporters it was 'very good.'
Heath's co-stars used the occasion to pay tribute to him.
'Working with Heath was fantastic,' People magazine quoted Christian Bale, 34, as saying. 'He steals the movie and I'm quite happy to say that. He's a hell of a talent and created a joker that's very iconic and one that will become a classic portrayal of the ages.'
Michael Caine, 75, who plays butler Alfred Pennyworth in the film, noted the 'intensity and ferocity of the performance.'
'But when we were sitting down between takes, he was completely ordinary,' Caine stated. 'He wasn't preparing himself or saying, 'Please leave me alone, I've gotta do this.' Instead, he was talking to me. We would sit and chat and have a cup of coffee, then suddenly they'd say, 'We're ready, Heath,' and he'd go straight into The Joker. His energy was astonishing, especially when it came from this kind of calm. He's certainly the best villain I've ever seen.'
Heath, who died of an accidental prescription-drug overdose on January 22, has garnered Oscar buzz for his role as the smiley yet sinister Joker.

Text: ANI

In the picture: Christian Bale and wife Sibi Blazic. Photograph: Bryan Bedder/Getty Images