July 11, 2008 15:21 IST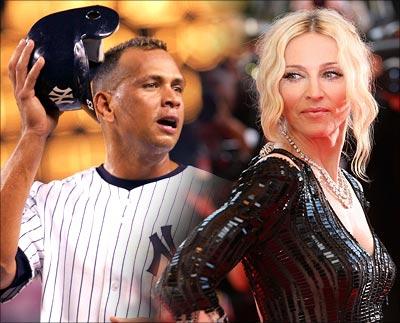 Baseball star Alex Rodriguez's estranged wife Cynthia is threatening to release the text messages he sent to Madonna [Images] in a bid to prove that he was in love with her.
The 34-year-old has hit the New York Yankee star with a whopping 50 million pounds divorce suit, and claims that she has texts that will prove A-Rod's relationship with Madge.
A source revealed that the steamy messages were what convinced Cynthia about her hubby's feelings for the singer, and added that if they were released, then the divorce could quickly get very ugly.
'They were instrumental in convincing her that he was besotted,' The Sun quoted a source, as saying.
'The messages could be released if things get really ugly.'
However, Cynthia's lawyers have stated that the relationship between A-Rod and Madge was not sexual, rather 'an affair of the heart.'
Madonna, in the meantime, has furiously denied claims about the affair.
Text: ANI | Photograph: Jim McIsaac (Alex Rodriguez) and Sean Gallup/Getty Images (Madonna).