July 09, 2008 17:15 IST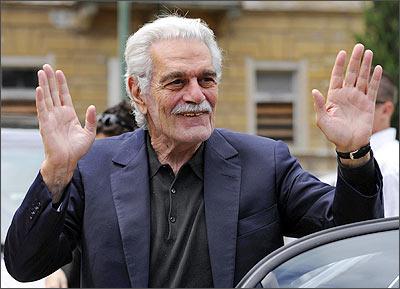 The past has a way of catching up with you. Just ask distinguished actor Omar Sharif.
The 76-year old actor of Lawrence of Arabia and Doctor Zhivago fame is awaiting a restitution hearing in a criminal battery case that occurred in 2005.
His crime? A slap on the face of a valet, Juan Ochoa Anderson, outside a Beverly Hills steakhouse in 2005.
The dispute was over a 20-euro note that Sharif had handed over the valet while he was getting into his Porsche. Sharif became enraged and stuck Anderson when the valet handed the money back to him.
According to the Los Angeles Times, the Egyptian actor was initially sorry about his behaviour and wanted to make amends.
'He was drinking that night. It was a misunderstanding,' the paper quoted lawyer Harland Braun as saying. Braun also told the paper that the actor wanted to apologise to the man and pay for any damages.
However, when the valet's lawyer wanted 'over a half-million dollars,' Sharif became convinced that Anderson just wanted a payout.
Totally fed up with the case that took years and $325-an-hour legal bills, Sharif decided to let his attorneys go and said he was representing himself. But that was the most proactive thing he did. Since then, the actor has done absolutely nothing to defend himself.
'His position is that the judgment is never going to be collected,' the paper quoted his former lawyer, Martin D Singer as saying.
The result was a default judgment, including a bill for the plaintiff's legal fees, of $445,000, the paper reported.
Now it remains to be seen what amount Sharif will have to cough up as the verdict of the restitution (compensation only for actual out-of-pocket expenses incurred by the victim because of the crime) nears it's verdict.
Whatever the amount, Sharif will have to pay or else face arrest as disobeying a criminal court is an offence.
Photograph: Samuel Kubani/Getty Images