July 08, 2008 12:23 IST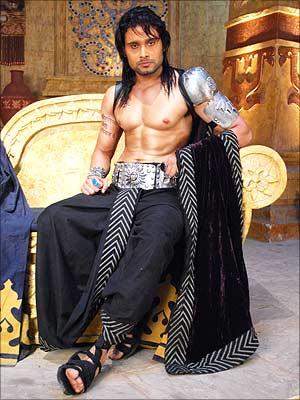 A clinical psychologist with a roaring practice in the upmarket suburb of Bandra in Mumbai shuts down everything to pursue his passion for acting. Sounds unbelievable?
But that is what has happened in the case of Uma Shanker, the actor identified to play Yudhisthir in Ekta Kapoor's [Images] Kahaani Hamaaray Mahaabhaarat Ki.
A student of the National School of Drama, New Delhi, the actor spent some time chatting with Srabanti Chakrabarti just before the serial went on air. Excerpts:
Also Read: 'I will defintely be compared to Rupa Ganguly'
How did a clinical psychologist land into the glamour world?
I am originally from Uttaranchal and have always been interested in acting. In 1999, I did a one-and-half year course on acting from National School of Drama and landed in Mumbai to make a career in acting in 2001. Unfortunately, nothing really clicked for me on the films' front. That's when I started acting in commercials.
Though my ads became really popular, my film career was not taking off. I decided to call it quits and go back to my original profession -- clinical psychology. I opened my chamber in Bandra and started treating people. I also started taking up consulting assignments in the area of psychology. Currently, I am a consultant.
How did you get selected for the coveted role of Yudhisthir?
Though I had called it quits some time back, the passion for acting was burning inside me. Thus, when I read in the newspapers that Ekta was looking for actors for Mahabhaarat, I went for the audition. After an initial audition, the creative team there offered me two small roles -- Chintrangad and Parashuram. I politely declined since I was looking for a bigger role. Some days later, I got a call from them informing me that I had been identified for the role of Dharmaraj Yudhisthir.
How did you prepare yourself for the role?
After I got selected, I started researching on the role. One of the biggest doubts that I had was why do people call him Dharmaraj as he was a man who sold his wife. I started reading everything on the epic that I could get my hands on and finally got to know that one of biggest hallmarks of a Kshatriya is to accept challenge and Yudhisthir did that even during the game of pasha.
How was your look modified for the role?
When I decided to act in serials, I made up my mind not to do saas bahu soaps or mythological shows. One of the main reasons being the costumes and looks associated with these shows. However, when I got to know the way they were handling the looks in Ekta's Mahabharat, my idea changed completely.
Manish Malhotra (fashion designer for Mahabhaarat) has changed the concept of designing costumes for epics completely. The characters in this show don't wear gaudy jewellery or colourful dhotis. The outfits are very new and will be a welcome change from the usual ones. My look has also undergone a change for this serial. You will see me sporting a beard!
How was the experience shooting for Mahabhaarat?
I am just back from a shooting schedule in Jaipur. It was a fascinating experience working with Mr Shantaram, the director of the show. Ekta's attention to detail is also mindblowing. Before every scene, she would come up to me and brief me on the scene and the character, and how to enact the scene.
How do you think this version of Mahabharat will be different from the old one?
The story will be the same -- how can one change the story of an epic? But the look and feel of the show has changed completely.
Catch Kahaani Hamaaray Mahaabhaarat Ki every Monday to Thursday on 9X at 9 pm.