July 08, 2008 18:07 IST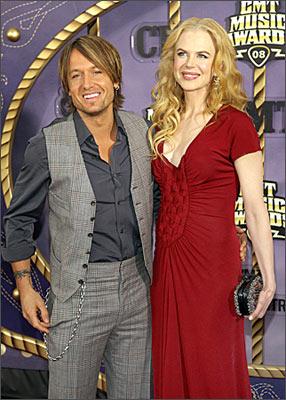 Australian actress Nicole Kidman [Images] and her rocker husband Keith Urban have become proud parents of a baby girl.
The Hours star gave birth to Sunday Rose Kidman Urban in Nashville on Monday morning.
'Husband Keith was by Nicole's side and mother and baby are very well,' Usmagazine.com quoted a representative for Urban as saying.
Kidman's parents Janelle and Antony, and her sister Antonia are also excited over the arrival of the baby girl.
'The birth of Nicole and Keith's daughter is such wonderful news and a beautiful addition to our family. We're all absolutely thrilled with the new arrival,' People quoted Antonia, as saying.
Telling about his daughter's birth, Urban wrote on his Web site: 'Earlier this morning, Nic gave birth to our beautiful baby girl, Sunday Rose Kidman Urban. We want to thank everybody that has kept us in their thoughts and prayers. We feel blessed and grateful that we can share this joy with all of you today.'
Sunday Rose is the couple's first biological child. Nicole has two adopted children Connor, 13, and Isabella, 15 with former husband Tom Cruise [Images].
If you're wondering why Nicole decided to name her daughter Sunday Rose, sources reveal that she wanted to get back at Cruise, and Scientology. Apparently, Nicole, who was a Catholic before she embraced Scientology, hated Scientology, and so named her baby Sunday, an important day for Catholics.
Text: ANI | Photograph: Stephen Lovekin/Getty Images