July 08, 2008 18:26 IST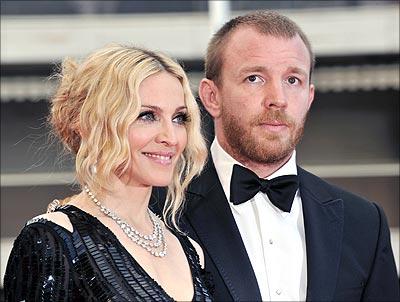 Madonna has been named as the cause for the collapse of Alex Rodriguez's marriage to wife Cynthia.
According to the Timesonline website, the wife of baseball's highest-paid star filed for divorce on Monday blaming his 'soul mate' Madonna [Images] for the collapse of her marriage. In the court papers, Cynthia accused the New York Yankees player of being unfaithful.
'The marriage of the parties is irretrievably broken because of the husband's extramarital affairs and other marital misconduct,' the website quoted her divorce petition.
Meanhwile, the queen of pop Madonna's relationship with the baseball star has been termed as a publicity stunt, say reports.
According to a source close to both Rodriguez and his estranged wife, the relationship is nothing but an attention seeking stunt for Madge's upcoming 'Sticky & Sweet' concert tour.
The world concert tour will begin August 23 in Cardiff, Wales, and Madonna has already sold out her four nights in October at Madison Square Garden.
'You cannot buy this kind of publicity,' New York Post quoted the source, who has spoken to both A-Rod and Cynthia Rodriguez in the last two weeks.
'I equate it to Madonna braiding her hair. She got everyone talking about her. She got Alex to come to her apartment. She's not going to (Rodriguez's) house so she looks like a home wrecker.
'She got her husband (Guy Ritchie) to fly over from London [Images]. She introduced another celebrity to Kabbalah. And oh, by the way, she's going on tour soon in Europe. This is just another chapter in her re-inventing herself,' the source said.
It was only on July 7 that the singer broke her silence on the alleged affair, denying that there was anything going on between her and A-Rod and also insisting that her marriage with Ritchie is intact.
As to the baseball star's interest in Kabbalah, the source insisted that it is a genuine thing, as A-Rod has been searching for the 'right path' to mental and spiritual peace.
In the picture: Madonna and husband Guy Ritchie at the 61st Cannes [Images] Film Festival.
Text: ANI | Photograph: Anne-ChristinePoujoulat/Getty Images