July 03, 2008 18:07 IST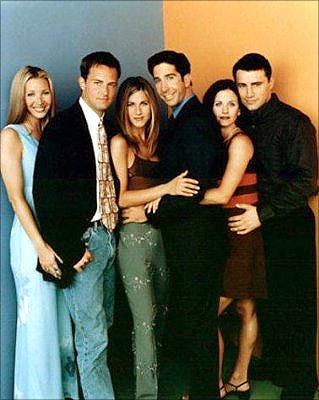 Television's most beloved pals, Friends, might be there for you on the 70mm screen sooner than you think.
The highly anticipated film production of the famous television series has finally been given the go-ahead, according to reports.
The cast are said to have agreed to the project after witnessing the box office success of Sex and the City, another hit television series given the movie treatment.
Rumours of a reunion for the six Friends stars -- Jennifer Aniston [Images], Courteney Cox, Lisa Kudrow, David Schwimmer, Matthew Perry and Matt LeBlanc -- have been around ever since the show ended in 2004.
The cast is now reported to have signed up for a movie version, produced by Warner Bros, with filming scheduled to start within the next 18 months. 
 
'Jennifer, Courtney and the rest of the cast are keen to reprise their roles, under the right circumstances. The success of Sex And The City has really got their wheels spinning about how a Friends film could be just as big, if done right,' the Telegraph quoted a source, as saying.
'Timing and the script are really important, but now that Courteney and Jen both have production companies, they can potentially get very involved in those decisions,' the source added.
Cox has made no secret of her desire to get the gang back together for one last outing, but Aniston has been reluctant.
The source said: 'As the biggest star of the Friends franchise, Jennifer can't help but look at what's happened with Sarah Jessica Parker [Images] and the Sex and the City film and be a little jealous. What's held back a Friends movie so far is that people were worried that Jennifer had simply become too famous to play Rachel again.
'But the truth is that Jennifer is finally willing to do it, and she'd love to work with that whole team of actors and producers again. She says she and Courteney have already talked this summer about what they want out of a Friends movie, and if deals can be made with them, everything else can fall into place rather quickly.'
Text: ANI