July 01, 2008 18:48 IST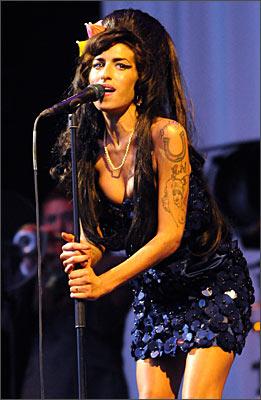 English singer songwriter Amy Winehouse is being immortalised in wax at the world famous Madame Tussauds museum.
The wax model, which was created by a team of 20 sculptors for some months, costs 100,000 pounds.
Winehouse is said to have insisted that her towering trademark beehive be perfectly recreated, and she even asked for her saucy 'sailor' tattoos to be engraved on the figure.
Her wax figure has been considered by the staff at the London [Images] attraction as worthy of being protected, especially after her Glaston-bury performance in which a fan lunged at her.
Bosses fear pranksters will try to topple the beehive from the figure, which will be unveiled later this month.
'We are really pleased to be creating Amy,' Daily Star quoted Tussauds general manager Edward Fuller as saying. 
'Feedback for her inclusion just keeps on growing,' he added.
Text: ANI | Photograph: Getty Images