August 25, 2008 12:17 IST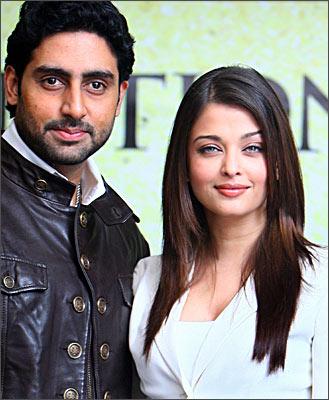 Amitabh Bachchan got a standing ovation by a 20,000 strong audience in London [Images] on August 24, as he recited -- in his inimitable baritone dialogues -- dialogues from his all-time hits like Deewar and Agneepath, as part of the Unforgettable world tour.
Bachchan became emotional while delivering dialogues from Deewar. Recalling the scene when he goes to a temple for the first time asking God to save his mother's life, Amitabh [Images] said at the tour, "Whenever I do the scene, I get emotional about my mother, whom I lost last year."
Bachchan also read out some of the poems from Agneepath, penned by his late father Harivansh Rai Bachchan.
Besides the regular stars on the show -- Abhishek Bachchan [Images], Aishwarya Rai [Images] Bachchan, Preity Zinta [Images], Ritesh Deshmukh [Images], and music directors Vishal and Shekhar, Shilpa Shetty joined the London leg of the tour. They were assisted by a cast of 130 stage artists, who kept the crowd spell bound with their scintillating performances.
The event promoted by India's Wizcraft International Entertainment -- which marks Bachchans' comeback to the stage after a gap of almost 20 years -- will have its final show at Rotterdam in Netherlands on August 29.
In the picture: Abhishek Bachchan and Aishwarya pose for photographers during a photocall in London.
Text: PTI | Photograph: Daniel Berehulak/Getty Images