August 11, 2008 14:07 IST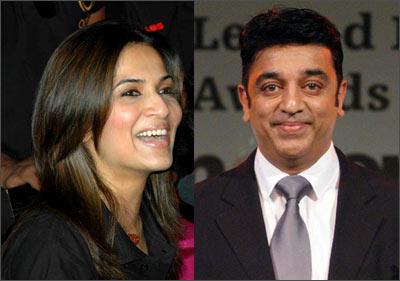 Soundarya Rajnikanth, whose Ocher Studios is in the process of producing films in collaboration with Hollywood major Warner Brothers, has reportedly been paid a hefty advance to the brothers 'Jeyam' Ravi and Raja for her next film. 
Recent reports indicate that even Kamal Haasan's [Images] Marmayogi might fall into the hands of the Ocher Studios-Warner Brothers combine. Kamal is said to have returned the advance amount to Pyramid Saimira and has reportedly initiated talks with Soundarya and Warner Brothers to associate himself with them.
As a first step, Kamal Haasan has reportedly sent the entire 'script' of his latest Tamil filck to Warner Brothers' bosses in the US. Once Kamal gets the nod, he would be working closely with them and Soundarya.
The reason for Kamal's decision to switch from Pyramid Saimira to Warner-Soundarya combine is said to be the reluctance of the former to accept the hike in the production cost of the film from Rs 100 crore to Rs 150 crore.
Will Warner Brothers agree to Kamal's proposal? Watch this space.
Text: Aravindan