August 08, 2008 20:02 IST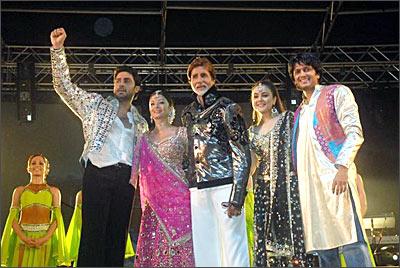 After entertaining the world over, the Bachchans have come into our homes.
The ongoing Unforgettable tour, featuring Amitabh Bachchan [Images], Abhishek Bachchan [Images], Aishwarya Rai [Images] Bachchan, Preity Zinta [Images], Riteish Deshmukh [Images], is currently being aired on television in a show called the Idea Unforgettable Tour Diaries.
Watch how the stars sweat it out and perfect their dance moves with Shaimak Davar's troupe just before they leave for the world tour. The Big B [Images] also raps to his Rang Barse number during the rehearsals.
Catch all this and more on Idea Unforgettable Tour Diaries at 11 pm on NDTV Imagine.