August 08, 2008 13:32 IST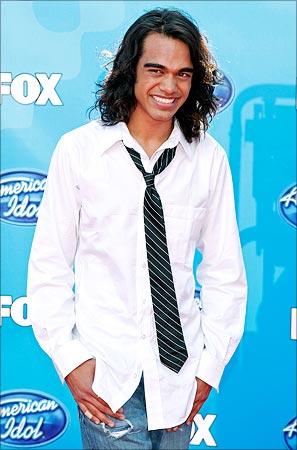 Remember Phil Stacey? How about Chris Richardson?
Chances are you don't.
But funnily enough, these two guys finished ahead of Sanjaya Malakar on the sixth season of the worldwide smash hit television show American Idol. And yet, while Phil and Chris have been relegated to obscurity, Malakar's brand name is as strong as ever, some two years later.
The most recent manifestation of Sanjaya-mania comes from the Mohegun Sun Casino in New Haven, Connecticut, where Sanjaya gave a live performance (August 6). 
Sanjaya reportedly performed two singles from his forthcoming debut album, including the one which can be seen here.
And while, from where we're sitting, the performance didn't seem too spectacular, the crowd seemed to love it. It's rumoured that Fanjayas (a legion of loyal Sanjaya fans) descended in masse on the casino, turning the small gig into a live music extravaganza.
For those waiting with bated breath for Mr Malakar's debut album, Sanjaya recently told rediff.com that the release date will be some time in 2009.
Photograph: Kevin Winter/Getty Images