August 07, 2008 13:33 IST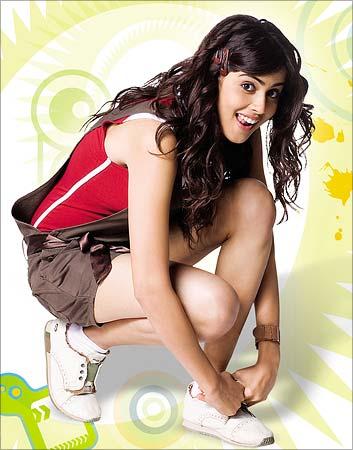 Once upon a time in our movies, parents thundered 'Over my (and your) dead body', when their children fell in love. Now, they have names like Peachy and Pumpkin, and they call their daughter's boyfriend over for dinner, host dance parties, and tease their sons about girlfriends.
The times are changing - but when did celluloid parents get this cool? Jaane Tu [Images] Ya Jaane Na is the latest 'it' movie for our country's gen next, and it has cool kids with names like Jiggy and Meow who speak in Hindi but switch to English for profound topics like love and loss. It's bursting with hip clothes, discos, convertibles, late night coffees -- and a coffee klatch of super cool parents.
With 30 percent of Indians under 25, the quest for the ultimate urban youth movie with the authentic youth voice is never ending. A few years ago, Rang de Basanti [Images] tried to ferret out the angst of the have-it-all generation and to give the rebels, led by Aamir Khan [Images], a cause.
But that was so 2006.  Those issues of rootlessness in an age of rising GDP have been dealt with or summarily dismissed. Now comes the JTYJN generation, headed appropriately by Aamir Khan's nephew Imran Khan. The baton has passed; a new generation takes over and brings to the table new, pressing issues:
Can boys and girls ever be best friends, just best friends? (Remember When Harry Met Sally? Of course not, that was in 1989.)
If A loves B and B only has eyes for C, and D loves C, can A and D hook up as a sort of consolation prize?
Can Pappu dance?
Well, Pappu can't dance. As for the other two questions, there are two ways to get the answer. You can sit through all two and a half hours of good-natured Friends-style nothing-much-happens banter of JTYJN (and it is very pleasant, because this story has no real bad guys -- dude, bad guys are so old school, the rising GDP is lifting all boats, don't you know? -- or you could just listen to your parents.

Come again?
Exactly! This new film for the new hip young India has a wickedly regressive message tucked into its ripped jeans, that the kids don't even realise. Pappu can't dance, but Papa knows best.
In the first 15 minutes of the film, the parents tell the kids who loves who; they even try to get the appropriate couples hitched up. But what self-respecting 20-year-old will roll over and let mommy arrange her love marriage?
So they all say 'No, yuck, mom, please, we are just friends.' And then they spend the next two and a half hours proving their parents were right. This to me is the jaw-dropping revelation of JTYJN.  Another hallowed construct of the Hindi film is biting the dust.
Text: Sandip Roy
Download Wallapers and Ringtones
Photograph: Genelia D'Souza in a still from Jaane Tu Ya Jaane Na