August 06, 2008 12:43 IST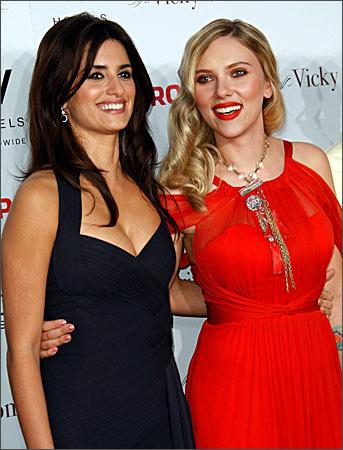 Scarlett Johansson's still red in the face over press coverage of her supposed 'e-mail relationship' with Barack Obama [Images].
During a recent interview with the Associated Press, she reportedly sounded off on the media's handling of the story.
'It seemed to me to be like a product of extreme sexism, and I kept thinking to myself, 'God, if this was just, like, Kal Penn or George Clooney [Images] or any of the other (Obama) surrogates or supporters ... there wouldn't be (any) question about it. Nobody would even talk about it.'
The fuss started in June, when Johansson, an ardent Obama supporter, told Politico.com that she had Obama's personal e-mail, and that the two had been trading messages.
When Obama was confronted with the purported correspondence, he denied that Johansson had his e-mail, insisting that he'd only sent one message to Scarlett at the behest of a campaign assistant. That should have ended it, but the media was in full frenzy mode, and speculation ran wild.
This, in turn, has ticked off the 23-year old blonde bombshell. 'I was merely trying to express my delight at Obama's commitment to his campaign in every aspect and his interest and his support (in) his surrogates and his staff and his fellows, and how wonderful and refreshing that is,' she's been reported as saying, adding that her words and actions had been 'manipulated'.
Photograph: Penelope Cruz [Images] (left) and Scarlett Johansson [Images] arrive for the Los Angeles premiere of Vicky Cristina Barcelona at the Mann Village Theatre in Los Angeles on Monday. (Michael Buckner/Getty Images).