August 05, 2008 16:22 IST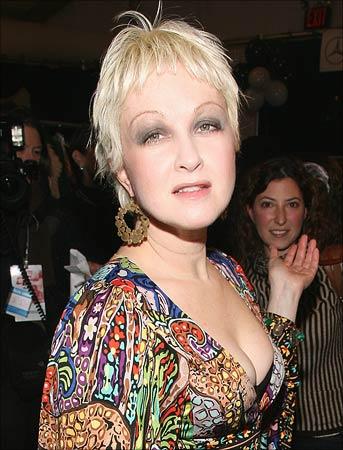 It's been a quarter century since she won hearts with the catchy Girls Just Want to Have Fun, the hit single that propelled her debut album So Unusual to 16 million sales worldwide. And though that song remains an anthem for teenaged girls the world over, not to mention a karaoke night favourite, it's been a while since we've heard from Cyndi Lauper.
Sure, she's found success throughout the decades, but not since that white hot single lit up the charts has she been as relevant as fellow 1980's star Madonna [Images].
But with her recently released Bring Ya to the Brink, we get the diva at her bubblegum best. Bring Ya to the Brink has been heralded by a wide range of critics, primarily on the strength of the US Billboard Hot Dance Club #1 hit, Same Ol' F***ing story, produced by uber-cool New York City DJ Richard Morel.
Her musical progression has been the subject of much conversation, from infectious pop, to R&B, to World music, to acoustic. Now, however, she's come full circle. Bring Ya to the Brink is packed to the brim with gooey, groovy dance numbers. And though she's been here before, given the freshness of this latest offering, it's safe to say: this is anything but the same ol' story.
Photograph: Getty Images