Advertisement
August 04, 2008 15:18 IST


He is not your run-of-the-mill superstar. In fact, he is not like your other superstars, and I am not talking only of him outstripping the others in the number of crores earned per film.

You see the other superstars stepping out in style, their off-screen appearance a replica of what you see onscreen. The senior ones won't show their balding pate or silver hair; the ones 20 years behind will mask their receding hairline, develop pecs that will shame a youngster, and often be seen with eye candy young enough to be their niece.

Fair enough, what's the dream factory for if it doesn't sell dreams whether on celluloid or off, right? But sometimes, you do wonder if our stars will ever break out of their carefully cultivated image, off-screen at least.

Rajni does. In fact, if you see him at the rare public appearances he puts in, whether at the Hogenakkal protests or at a filmi muhurat, and if you weren't told that this is Rajnikanth [Images], Tamil Nadu's, and India's, biggest superstar who can halt the state with a wave of his hand, you will be hard put believe it.

Can this senior citizen with white hair really be that phenomenon, who lights up the screen and ensures a superb return on investment for those who back him -- even in the rare occasion his film flops

.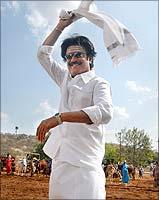 Rajni makes it clear that he is not a prisoner of what you see on screen. In fact, he goes to great pains -- even including a segment devoted to this in his latest film Kuselan [Images] -- to draw a line between his roles and his life.
Yet, for such a man who dismisses his stardom and image, onscreen he has remained locked in a formula which he only rarely breaks. Which has been my long-standing grouse against the actor.
Actor did you say, I can already hear the scepticism and ridicule from the Mumbai-wallahs and from the cineastes of Tamil Nadu for whom only one man, Kamal Haasan [Images], qualifies for the title. Rajnikanth is not an actor, it is ok you calling him India's biggest superstar, but he is no actor, puh-leeze, they will say.
But to defend my position, calls for a flashback or rewind to my growing up years in Chennai when the dominant stars were M G Ramachandran and Sivaji Ganesan [Images]. The superstar and the actor, much like it is today. The mantle was passing on to Gen Next, aka Kamal and Rajni.
Rajni was unusual, in that he was not your usual Tamil hero. He was dark in a state that has a fairness fixation, had a peculiar dialogue delivery that today is his USP, and seemed more about mannerisms than performance. From a guest appearance in his debut to playing a villain to graduating as the hero and then to become the superstar, all in the time of a powerhouse called Kamalahaasan, is no mean achievement.
Mere style and mannerisms don't get you this far; it is only talent that does it. Talent that he displayed very early on his career. In films like Bhuvana Oru Kelvikkuri (1977), Thappu Thaalangal (1978) and Mullum Malarum (1978). This was also the time when he portrayed a string of negative characters, often with Kamal as the lead.
Oh, how I enjoyed his performance in Shankar, Saleem, Simon (1978), and in Aarilirindhu Arubadhu Varai (1979) when he played an old man for the first time. Nettrikkan, in which he plays a libidinous old man, came two years later.
I found it was possible in the Tamil Nadu of those days to be a fan of both the reigning icons, though few could understand how this was possible. But alas with success, as he moved first to star status and then superstar, Rajnikanth's films had little to do with performance and more to do with sustaining the onscreen legend. And this was the time I moved away from watching his films, which however ranked high on the entertainment quotient.
Witness even last year's Shankar offering, the disappointing (in retrospect) Sivaji. Even an acclaimed director like Shankar, who has helmed awesome films like Anniyan, Indian and Gentleman, had to play second fiddle to Rajni's superstar persona, disappointing fans like me who want less of the Rajni-style hip shakes and mechanical dance steps, spider-man like stunts, and more of his early performances. Will the much-awaited Robot be more of the same, or will Shankar prevail, I tremble in anticipation.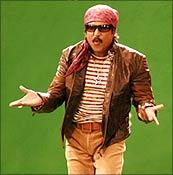 Once in a while comes a film like Thalapathi, where Mani Ratnam showed that given a strong director and an author-backed role Rajnikanth was always up to the challenge. But today Rajni is a fortune-making proposition for those around him, and everybody is busy making the most of his dream run.
And as Rajni, playing the superstar, emphasises in Kuselan, his job is only to do what the director and script-writer ask him to.
My outpouring, in fact, is a result of watching Kuselan over the weekend, the so-unRajni film. For one, it is not a Rajni film, he makes an entrance a good 40 minutes into the film, and his overall screen time cannot be more than 45 minutes, a fact his legion of fans seem to have cottoned on to and stayed away. So the mass hysteria of Sivaji is missing.
UnRajni Kuselan maybe, but it is also the closest to his real-life story. The film talks of the superstar, a nobody as a child, going on a shoot to a village where his childhood friend is a poor barber. Kuselan is the Sudama story in Tamil. It is this childhood friend who propelled him to become an actor, and it is this friendship that the superstar wishes to redeem.
As always Rajni sleepwalks through the film, his trademark walk, style, speech, dance taking very little off him. The climax is his speech at a school function, where he exhorts the students to remember their childhood friends, "who love you when you are a nobody, before you become somebody", and it is a speech guaranteed to leave moist eyes, running nose and a heavy heart.
I sported all the three, yes, but more than the speech, what moved me was that in those five minutes Rajnikanth had given fans like me a glimpse of the fine actor we know him to be, an actor lost under the superstar paraphernalia. It is this, the urge to find a lost Rajnikanth, that drives me to his films. For kitsch, there is always Bollywood.