April 30, 2008 17:55 IST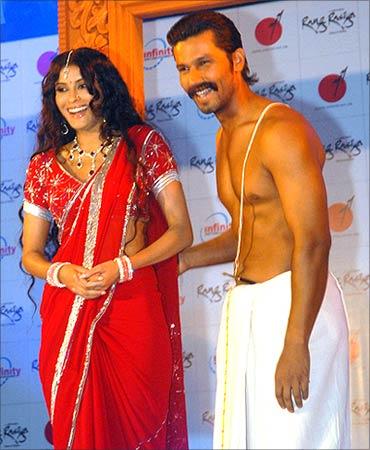 To celebrate the 160th birth anniversary of famed artist Raja Ravi Varma [Images], director Ketan Mehta had a get together with the cast and crew of his latest film, Rang Rasiya.
The film stars Randeep Hooda, who will portray Raja Ravi Varma. Nandana Sen [Images] will play the sultry Sugunabai, Varma's muse.
Earlier, Malyali director Shaji N Karun had also planned a film on the artist, and hoped to cast Ajay Devan and Madhuri Dixit [Images] in the lead roles. Unfortunately, the film ran into trouble, purportedly because Madhuri refused to appear in semi-nude scenes that the film required.
Shaji, in an interview to rediff.com, gave his interpretation of the story. "The relationship between Raja Ravi Varma and his lover was that of sun and sunflowew," he said. "At the fag end of the day, the flower withers in the heat of the sun. It follows the sun from morning till evening. She stood by Varma throughout but in the end, she ran away from him."
Photograph: Pradeep Bandekar