April 30, 2008 12:21 IST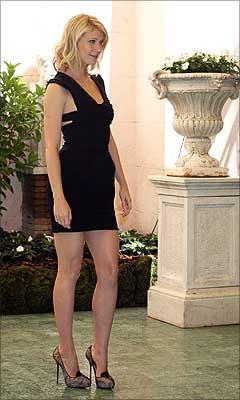 Gwyneth Paltrow is back with a bang.
After three years of being house-bound with two children, the Oscar-winning actress will be seen in this Friday's release, Iron Man.
The film, which premiered in London [Images] last week, stars Robert Downey Jr as an arms manufacturer Tony Stark, who turns a crusader of peace.
Touted to be one of the summer's big hits, Iron Man is directed by Jon Favreau. Paltrow plays Pepper Potts, the woman in charge of Downey's troubled life.
As a matter of fact, Paltrow seems to be in charge. Period.
After three years of domestication, the actress is reveling in her new-found attention from the European press on her 'comeback'. The Shakespeare in Love actress is married to British band Cold Play's vocalist Chris Martin. The have two children Apple, three, and Moses, two.
Seen promoting the film in itsy bitsy outfits and a pair of seven-inch heels, which showed her toned legs to perfection, the actress told The Daily Telegraph, 'I suppose in a way, I'm making a comeback. I definitely was hibernating for a while, and I feel that now I am coming back into the world.
'I enjoyed making the film so much that doing this part of it has felt really easy and not too intimidating. But, you know, a lot has changed in my life, and it's very nice that people are somewhat pleased that I've decided to come back.'
On what made her agree to do the film, the actress told the paper, 'When I agreed to do the movie, there wasn't a script... I just had a conversation with Jon Favreau [best known as the star of the film Swingers], and he outlined to me what the movie was going to be about, what the metaphors were, who the characters were, and what the relationships were going to be. I had always wanted to work with Robert, so he was one of the main reasons I accepted the film. He's one of the most brilliant actors I've ever had the good fortune to work with.'
Photograph: Getty Images