April 30, 2008 09:15 IST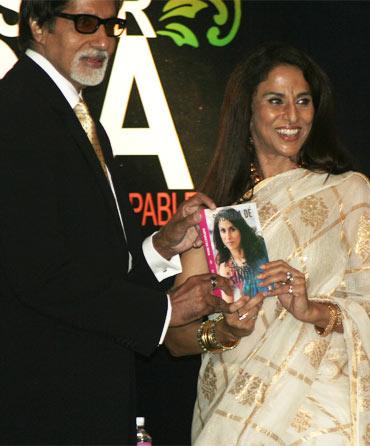 Whether or not he means to, Amitabh Bachchan [Images] always seems to steal the show. At the launch of acclaimed author Shobhaa De's new book, Superstar India, the Big B [Images] delivered the event's main address, before formally unveiling book and posing for photographs with the author.

Though it was Shobhaa's night, the successful 60 year old author garnered neither the media attention nor crowd reaction that Bachchan's speech recorded. While he had nothing but the kindest words for Shobhaa, and though his praise was highly personal and not generic, it was his passionate plea against female infanticide and discrimination against females that left the crowd buzzing.

Before touching on such a serious subject, however, Bachchan won the crowd over with a few jokes. Wearing an all black suit, black shades and a gold tie, Amitabh looked the part of Bollywood's Godfather, stepping to mike and delivering his message in even tones and a heavy bass.

He began by showering praise on the event's host city, Mumbai, his adopted home. Then, thoughs still embroiled in the MNS and Raj Thackeray scandal, Amitabh poked fun at the precarious situation. "It feels right and good to be here," he said, pausing to let his words sink in. "Political correctness taken care of, let's turn to Shobhaa," he continued, joking; and the entire crowd erupted in laughter, with some audience members still chuckling to themselves several minutes later.

But once serious, Amitabh gripped the gathering's attention, his solemn words the sole audible sound for the speech's duration: 15 minutes. In a departure from form, Bachchan used the relatively light-hearted affair as the launching pad for a new vocal campaign aimed to eradicate one of India's biggest injustices: female infanticide.

"Ten million girls have disappeared, lost mother and lost sisters" he pointed out, before asking, "Where have they gone?" He indicted India for sweeping the issue under the rug, instead choosing to bask in the glory of an econimic explosion.
"The juggernaut of the process will not force a change on its own accord. We must change our minds. We can no longer discriminate against women, not in our mind and not in our actions. This is our problem, India's problem," he said.

Afterwards, fellow speaker Vir Sanghvi weighed in on Bachchan's address. "It was surprisingly passionate," he said, claiming he had "no idea" how passionate Amitabh felt about female discrimination. Tina Ambani, in the audience's front rows, found the speech "very powerful", and gave it her approval.

Even Shobhaa, the night's intended star, made it a point to mention Amitabh's plea for justice. "It was pitch perfect," she suggested.
Amitabh, however, deflected the praise, and continued to turn discussion back to the plight of women in India.

Given his persistence and his passion, evident through his stately manner and fiery speech, we expect to hear more on the issue from the Big B, perhaps on his newest endeavour, a mega-hit blog where he answers fans and posts forthright answers to tough questions. All said, it was another legendary performance from the living legend; after he left the party for the airport, paparazzi trailing him all the way, the high society crowd couldn't stop discussing the controversial, thought provoking speech.
Photograph: Rajesh Karkera