April 22, 2008 10:59 IST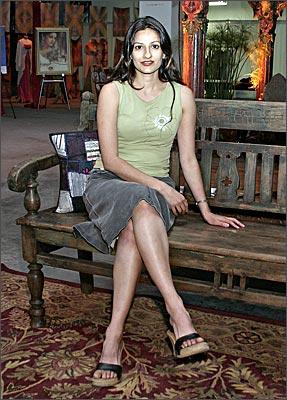 For four years, Keshni Kashyap has gradually been making a name for herself as an independent filmmaker, with short films like Good Thing, a bittersweet tale of a despondent husband grappling with the question of whether you can ever find what you're looking for.
Kashyap is also working on feature film scripts, but is not confining herself only to the movies. Thanks to the encouragement she has received from Anjali Singh, her college buddy and an editor at Houghton Mifflin whose acquisition of Marjane Satrapi's Persepolis became a successful Oscar-nominated graphic film, 32-year-old Kashyap is on her way to the bookstore.
Kashyap, who was raised in Los Angeles, attended Berkeley where she studied literature and started making experimental videos and documentaries. After spending a year working for indie director Wayne Wang, she enrolled in UCLA's directing program, where she wrote and directed four short films including Good Thing, that have screened in over thirty festivals worldwide.
Singh, who began her publishing career 12 years ago, worked her way through Vintage and Pantheon at Random House before joining Houghton Mifflin in 2006. She's most proud of her role in publishing Persepolis, a graphic novel about a young woman growing up in Iran. 'It was right after 9/11, and I thought the book would open American eyes to what it's like to be from the Middle East,' she has said.
Singh has also translated Satrapi's Chicken with Plums. She is currently excited about Kashyap's debut, Tina's Mouth, about an Indian American girl who goes to a wealthy prep school.
She described the book to a trade publication as 'Clueless meets Ghostworld.' 'It is also a sweet and introspective look at an over-the-top wealthy Indian-American community of intellectuals, doctors and kids driving SUVs and imitating hip-hop culture,' she said.

Kashyap published the book herself, but thanks to the encouragement from her buddy, she began turning it into a graphic novel, inspired by Persepolis. When it hits the stores, it will be the first major graphic novel by a desi writer.