October 11, 2007 17:46 IST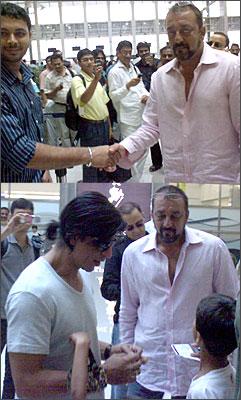 Reader Gautam Tourani was lucky enough to meet both Shah Rukh Khan [Images] and Sanjay Dutt [Images] at Mumbai Airport.
They were on their way to New Delhi for the book release of Mr and Mrs Dutt, Memories of Our Parents, written by Sanjay's sisters, Priya and Namrata. The book was launched by Prime Minister Manmohan Singh [Images].
If you encounter/meet/see film or television personalities and take a photograph or a video of the star(s), please scan the photograph(s) and mail the pictures and video clips to us. We will feature the best images and video clips right here on Rediff Movies.