November 05, 2007 14:56 IST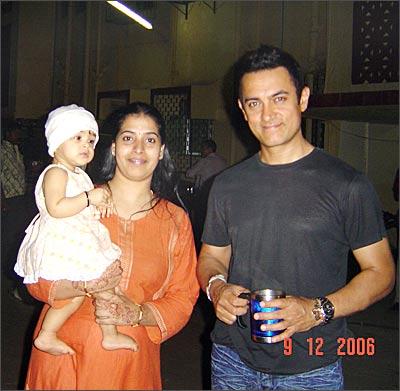 Reader Kishore met Aamir Khan on the sets of his upcoming directorial debut, Taare Zameen Pe in December 2006.
According to Kishore, the movie was shot at his in-laws' home in Uttam Society, in the central Mumbai suburb of Chembur.
Sending us a picture of Aamir with Kishore's wife Priya and daughter Lavanya, Kishore writes, 'Aamir was very friendly and accommodated our request for a snap.'
If you encounter/meet/see film or television personalities and take a photograph or a video of the star(s), please scan the photograph(s) and mail the pictures and video clips to us. We will feature the best images and video clips right here on Rediff Movies. 
Also check out: Other Stars Readers Spotted.