May 21, 2007 18:48 IST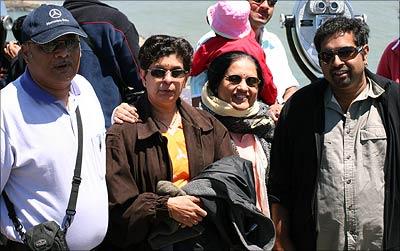 Reader Parag Desai sends us a picture from a trip to San Francisco.
Parag and his family were checking out the Golden Gate bridge when they spotted singer-composer Shankar Mahadevan with his family.
Parag writes that Shankar 'readily agreed to a photo and spoke to us in Marathi, wishing us good luck and a happy holiday.'
In the photo: (from left to right) Parag's uncle Satish Kane, aunt Vrushali Kane, his mother and Shankar Mahadevan.
If you encounter/meet/see film or television personalities, take a photograph or a video of the star(s), please scan the photograph(s) and mail the pictures and video clips to us. We will feature the best images and video clips right here on Rediff Movies.