Spidey 3 could be India's biggest hit in 2007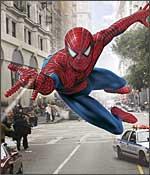 Binoy Valsan
Take a hike, Krrish.
Indian superheroes are all very well, but just as Batman and Superman are helplessly witnessing, there's a certain masked hero far ahead of the bunch. Spider-Man 3 has reaped a massive Rs 6.64 crore single day collection, the highest for any foreign movie on Friday. The film opened to Rs 19.17 crore on it's opening weekend in India, making it a likely contender for the highest earning film of 2007 -- Indian or otherwise.
Box Office: Can Spidey beat Krrish?
As per official figures from Sony Pictures, the latest movie has broken a handful of box office records. Spidey has even dislodged the suave English spy. Spider-Man 3 has pushed Casino Royale's record for best opening weekend into a distant second slot. Casino Royale's first week collection was Rs 14.94 crore (almost 30 percent less).
"We are having a dream debut. Backed by a strong marketing campaign, and a first ever dub in Bhojpuri, the Spider-Man franchise has found a larger audience base in the country," said Uday Singh, Managing Director, Sony Pictures Releasing India.
Sony Pictures has released 588 prints of the movie in the country -- 261 in Hindi, 162 in English, 78 in Tamil, 81 in Telugu and 6 in Bhojpuri -- the maximum number of prints for any foreign movie. Bhojpuri heartthrob Ravi Kishen lends his voice for the masked crusader in the Bhojpuri dub.
"Of the regional versions, the Tamil version has grossed the maximum and is on the rise as we speak. The main intention is to widen the reach and impact of the movie. And there is a huge following of movie goers who would love to be entertained in their own language," said Vikramjit Roy, Head of Publicity, Sony Pictures Releasing India.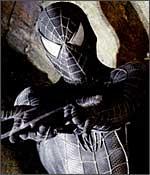 The third installment, though widely reviewed as the weakest of the Spider-Man series, has shown all indications of occupying the coveted slot as the highest grossing foreign movie in the country. Worldwide, the film grossed over $150 million in its first weekend, shattering all kinds of records.
Sony Pictures Releasing India sources have also indicated that Spider-Man is all set to be the tallest foreign movie character, globally. Spidey is expected to spin his web through the entire month of May and continue his golden swing at the movie counters until Johnny Depp and his gang of pirates drops their anchor in the Indian box office.
"Pirates of the Caribbean III slated for June 1 will be our next summer blockbuster. We are planning a grand Indian release for it just like Spider-Man 3. We are planning to release more than 300 prints across the country," declared Mr Roy.
With three more weeks to go before the Pirates show up, Spidey's all set to break more records around the world. In a year where Bollywood's box office showings have been pitiful, the webslinger could just swing away with the year's biggest film.
Spider-Man lands on Rediff: The Special Site