March 28, 2007 18:28 IST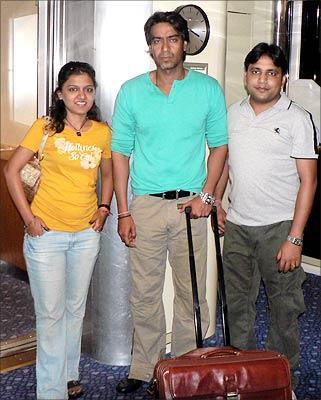 Reader
Ashish Yaduka
went on a cruise to Lakshadweep with his wife
Nupur
 for his honeymoon.
Ajay Devgan was there for the full duration, and very accessible to everyone. Ashish writes that he would talk to people and click snaps with them.
Ashish did not let the opportunity go. He got a picture taken on the last day, before disembarking. And the best part was that Devgan himself directed the person taking the picture to how to take a good photo.
According to Ashish, Ajay is not only a good actor but also a good human being. 
If you encounter/meet/see film or television personalities and photograph them, please scan the photographs and mail the pictures to us. We will feature the best images right here on Rediff Movies.