Home > Business > Personal Finance


Spotted: A R Rahman in Texas

June 13, 2007 17:24 IST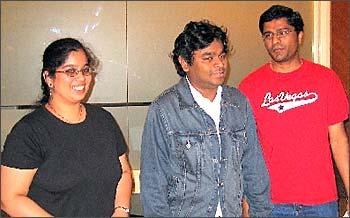 Reader Radhika Bagayat and her husband Jay went with friends, Hema and Amol (not in the picture), to watch A R Rahman's concert at Houston, Texas, and came away very impressed.

After the concert, Radhika and her friends visited the hotel Rahman was staying in, for a glimpse of their favourite star.

They spent the night in the hotel lobby, and finally, were rewarded with a chance to meet Rahman, singers Hariharan, Chitra, Sadana Sargam and Naresh Iyer and percussionist Sivamani.

Radhika writes that all of them were simple and down-to-earth, just like reader Ajay Ram had mentioned earlier.

'We left Houston in the morning brimming with a sense of lifetime achievement in just meeting them. It was indeed a dream come true for all of us,' Radhika writes.

If you encounter/meet/see film or television personalities, take a photograph or a video of the star(s), please scan the photograph(s) and mail the pictures and video clips to us. We will feature the best images and video clips right here on Rediff Movies.