| | |
| --- | --- |
| Shah Rukh Khan in Chak De India | |
| | |
| | |
| | |
| | |
| | |
| | |
Advertisement
July 26, 2007
Can't get enough of your favourite Bollywood stars? Need a quick gossip fix?

Then you've come to the right place. Read on as our very own starcrossed BPI (Bollywood Private Investigator), dishes out the dirt about our heavenly bodies.

***

Chak de can!

For a long time my tractor driver Kulwant thought that YRF was a tire manufacturer. When I told him it's apne sarson ke khet ka Yash Raj Films, Kulwant's heart swelled like the Jhelum.

Now it will overflow when he comes to know that YRF's next release Chak De! India has created a Bollywood record even before its release. The film has scored its first goal -- it was shot using, ma kasam, a little over 1,500 cans of raw stock!

It outscored Boney Kapoor's Pukar which, thanks to its constant shooting and re-shooting, had consumed about 1,350 cans. If you are wondering what's the big deal, spare a thought for the poor editor; an average Bollywood movie consumes about between 300 and 400 cans.

Last heard, Shah Rukh Khan [Images] was exasperatedly asking 'Yeh, Chak De itna footage kyun khaya?' to which director Shimit Amin muttered, 'It's a sports film unlike anything ever seen in India before!'

***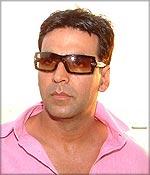 Namastey Paisa

God tussi great ho! The way actors' fees are shooting up these days, vada pav may soon end costing a hundred rupees. Take our Punjab da puttar Akshay Kumar [Images]. He asked for and, hold your breath, got Rs 11 crore (that is Rs 110 million for those unfamiliar with crores) from the Percept Picture Company for his role in Tasveer, Nagesh Kukunoor's next production.

Funny, considering that the amount is pretty close to the collective budget of all of Nagesh's films in the past save Aashayein, which he is shooting now.

When another new corporate approached apna khiladi, Akshay asked for Rs 15 crore (Rs 150 million) for it. The corporate executive' smiled and said "Sirji, aap serious ho?" Akshay said, "Oh, meri bhool bhulaiya! I also want 50 per cent ownership of the negative rights!"

Last heard the exec was wondering why Akshay doesn't produce his own films.

***

Mangat's the man

Yaar, sade naal Kumar Mangat's story has really moved me. No Bollywood power list can be complete without him.

After producing Omkara [Images], he has six films on the floor: Anurag Kashyap's No Smoking, Rohit Shetty's Sunday, the animation movie Toonpur Ka Super Hero, Ajay Devgan [Images]'s U, Me Aur Hum, and Ashwini Dheer's One Two Three and Haal-E-Dil (in which he is launching his daughter). Phew!

Though Mangat is known as Devgan's business manager what is not known is this -- he was a spot boy once, then a personal assistant, and then a production controller.

He started his own firm and went bust. He had not a single penny on him. To support himself he used to sell Diwali crackers. After that things improved. He joined Devgan once again, toiled his way up the production ladder. And look where he is now! Fultu filmy kahani, na?



***

Ramu ki aag!

These days Ram Gopal Varma increasingly resembles the Thakur character from Sholay [Images]. His directorial -- nah, make that entrepreneurial -- hands have been handicapped by Adlabs Films [Get Quote], the producer of Ram Gopal Varma Ki Aag.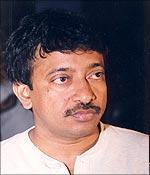 The financial babus are poring over every little production detail during the making of the film. One enterprising accountant even demanded Mohanlal's boarding pass as proof that the Southern superstar actually took a flight to come to Mumbai.
Yaar, Basanti ke tange me ayega kya apna Mallu Thakur?
The news from Ramoji Film City in Hyderabad (where RGV is shooting the sequel to Sarkar) is that he has tied up with Bharat Shah to start his factory again. Praveen Nischol, formerly with Adlabs Films, is pitching in as the new CEO. Gulp. I desperately need a swig of malai lassi.