July 12, 2007 17:57 IST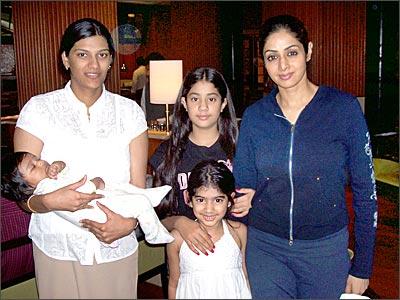 Reader Don Bosco Cherian was enjoying a quiet lunch with his wife, Lisa, and daughter, Claire, at the Taj West End in Bangalore, when Sridevi [Images] walked in with her two children -- Jhanvi and Khushi -- and sat next to their table.
When the couple finished with their lunch, our reader walked up to the actress and requested her photograph with his family, which she very politely agreed to.
 
If you encounter/meet/see film or television personalities and take a photograph or a video of the star(s), please scan the photograph(s) and mail the pictures and video clips to us. We will feature the best images and video clips right here on Rediff Movies.
Also check out: Other Stars Readers Spotted