July 10, 2007 18:31 IST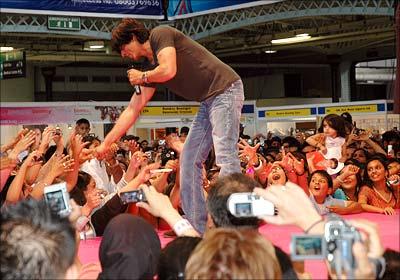 Reader Sanjay Gupta got a chance to see King Khan [Images] live as he interacted with the crowd in London [Images].
"Shah Rukh Khan [Images] was very humble and charming," says Sanjay of the actor whose upcoming film, Chak De India is all set for release on August 10.
It's clearly evident that the crowd really loves him.
If you encounter/meet/see film or television personalities and take a photograph or a video of the star(s), please scan the photograph(s) and mail the pictures and video clips to us. We will feature the best images and video clips right here on Rediff Movies.
Also check out: Other Stars Readers Spotted