December 12, 2007 18:51 IST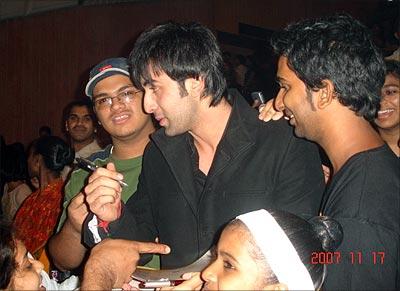 Reader Ronita Ghosh recently spotted Ranbir Kapoor [Images] at his Saawariya premiere in Mumbai, along with the rest of the cast.
Ronita writes that 'Ranbir was a sweetheart; not only was he posing with a lot of people but was also smiling while giving his autograph.'
And she was one of the lucky people to get his autograph, 'which he smilingly handed over!'
If you encounter/meet/see film or television personalities and take a photograph or a video of the star(s), please scan the photograph(s) and mail the pictures and video clips to us. We will feature the best images and video clips right here on Rediff Movies.